Electric Idol by Katee Robert
Publisher: Sourcebooks Casablanca
Publication Date: January 18, 2022
Genres: Romance, Fantasy
Book Review
Psyche has always been a public figure. With her mother as the latest of Olympus' Demeter's, and her platform as a plus-sized influencer, she has always had an audience. But she never expected that Aphrodite would want her dead. When Aphrodite sends her son, Eros, to kill Psyche, Eros offers her a deal to protect her. If Psyche will marry Eros, he thinks it will spare her his mother's wrath and keep her alive. Psyche reluctantly agrees, but she doesn't plan to fall in love with him.
I loved being able to return to Olympus and get to know one of Persephone's sisters! Electric Idol is deliciously steamy, just like the first book in the series. It is also quite suspenseful with a lot of Aphrodite drama and concern about public image. Eros is such a dark character. Known for being his mother Aphrodite's enforcer, Eros has a reputation as a scary, heartless monster. But Psyche quickly sees a new side to him, one where he cherishes her deeply and shows her kindness.
If you enjoyed the first book in the series, or enjoy steamy books and retellings, Electric Idol is for you!
Thank you to Sourcebooks and Edelweiss for the review copy! All opinions are my own.
---
Synopsis from Goodreads
In the ultra-modern city of Olympus, there's always a price to pay. Psyche knew she'd have to face Aphrodite's ire eventually, but she never expected her literal heart to be at stake…or for Aphrodite's gorgeous son to be the one ordered to strike the killing blow.
Eros has no problem shedding blood. But when it comes time to take out his latest target, he can't do it. Confused by his reaction to Psyche, he does the only thing he can think of to keep her safe: he marries her. Psyche vows to make Eros's life a living hell until they find a way out of this mess. But as lines blur and loyalties shift, she realizes he might take her heart after all…and she's not sure she can survive the loss.
---
About the Author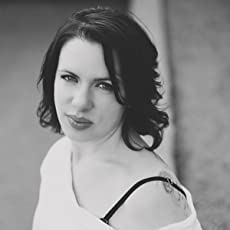 Katee Robert is a New York Times and USA Today bestselling author of contemporary romance and romantic suspense. Entertainment Weekly calls her writing "unspeakably hot." Her books have sold over a million copies. She lives in the Pacific Northwest with her husband, children, a cat who thinks he's a dog, and two Great Danes who think they're lap dogs.
---
This post contains affiliate links. If you use these links to buy something we may earn a commission. Thanks.